The Pas Kinsmen is a proud community service group that has existed in The Pas since March 26, 1960.  Since then, the club has been hard at work in the community with service projects and fundraisers with the goal of "serving the community's greatest need".  Look town to see evidence of the club's contributions over the years: Kin Kourt, Kinsmen Place, Kinsmen Park, the World Championship Dog Races, and so much more.
The Pas Kinsmen is part of a national association called Kin Canada, which boasts Kinsmen, Kinette, Kin, and Kin Campus Clubs in communities across the country.
The Pas Kinsmen has a strong membership of over 30 members, but we are always looking for energetic, community minded people to join our club.  Contact us if you are interested in joining our club or attending a meeting as a guest.
EXECUTIVE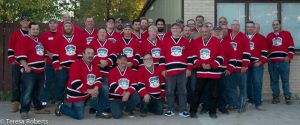 2023/2024
President – Adam Noel
Past President – Josh Lamontagne
1st Vice President – Dom Granata
2nd Vice President
Secretary – Aaron Mosley-Williams
Treasurer – Danny Halpin
Bulletin Editor – Kurt Fulmore
Risk Management Director -Kevin Bate
Bar Chair – – Daryl Hogue
Bar Chair – Josh Lamontange
Membership Director – Mike Roberts
400 Club Director – Kurt Fulmore
Director at Large – Tyler Fourre
Kin Center – Jack Madrigga
Registrar – Gary Kozun
MEETINGS
The Kinsmen Club of The Pas meets every Thursday night, one week a General Meeting and the next an Executive.
Our General meetings start at 7:00 with a meal ($20 cost) and then go through the business of the club.  Meetings begin with O'Canada and Grace.  We follow Kin Rules of Order and follow an agenda set by the President.   Normal topics include correspondence (donation and volunteer request), budget updates, and committee reports.   Members usually stay for a while after the meeting where we can do anything from watching sports to  playing cards.  Contact us if you would like details on attending a meeting as a guest.
Executive Meetings are a little less formal but also follow Kin Rules of Order.  They begin at 7:30 and do not have a meal with them, all members of the club are invited to executive meetings and have a vote as well.   Executive Meetings go through an agenda similar to General Meetings with more details of our budget presented and a round table that allows members to discuss issues that come up.
PAST PRESIDENTS
2022/23 – Josh Lamontange
2021/22 – Brian Foley
2020/21 – Andrew Esson
2019/20 – Jack Madrigga
2018/19 – Mark Landels
2017/18 – Jason Oswald
2016/17 – Kevin Carlson
2015/16 – Danny Halpin
2014/15 – Glenn Wadleius
2013/14 – Riley Wlasichuk
2012/13 – Roy Osmund
2011/12 – Jack Madrigga
2010/11 – Adam Noel
2009/10 – Byron Pease
2008/09 – Daryl Hoskins
2007/08 – Ken Tritthart
2006/07 – Doug Van Damme
2005/06 – Bryan Horst
2004/05 – Brent Colgan
2003/04 – Dave Wasalynka
2002/03 – Jim Lamontagne
2001/02 – Dwight Dodds
2000/01 – Jason Neustoeter
1999/2000 – Bruce Trampe
1998/99 – Darrell Hogue
1997/98 – Kevin Bernstrom
1996/97 – Dennis Shepherd
1995/96 – Erin A Wallace
1994/95 – Dennis L Hlady
1993/94 – Don Kembel
1992/93 – Doc MacGillivary
1991/92 – Dave Roberts
1990/91 – Mick DeTramaudan
1989/90 – Vic Bellay
1988/89 – Gary Kozun
1987/88 – Dennis Boiteau
1986/87 – Terry Buck
1985/86 – Terry Dugan
1984/85 – Jim Metcalfe
1983/84 – Micheal Pinx
1982/83 – Greg Wazney
1981/82 – Greg Giesbrecht
1980/81 – Allen Babbey
 1979/80 – Bill Henderson
 1978/79 – Ron Libbrecht
1977/78 – Byron Harkness
1976/77 – Rick Colgan
1975/76 – Norm Baxter
1974/75 – Robert Carley
1973/74 – Ian Gunn
1972/73 – Dennis Mostat
1971/72 – B. Bracegirdle
1970/71 – Jim Goodridge
1969/70 – Ed Tellier
1968/69 – Jim Fasano
1967/68 – Max Lebrowisky
1966/67 – Gerry Hanover
1965/66 – Jack Lamb
1964/65 – Ted Scoles
1963/64 – Sam Chun
1962/63 – R Goldstrand
1961/62 – Al Boggs
1960/61 – Bill Moffat
LIFE MEMBERSHIP
Life membership is awarded by Kin Canada to a member that has been with an association at least 10 years and demonstrated significant contributions to the association.   They must be nominated by a committee of 3 members that all have at least 7 years experience with Kin,  A club is limited to 1 nomination every two years (The Pas has been granted exceptions due to have very few nominations despite it's history of being a very strong and successful club).
Dave Roberts (2015)
Phillip 'Doc' MacGillivary (2015)
Darrell Hogue (2012)
Bruce Trampe (2012)
Kevin Bernstrom (2002)
Gary Kozun (1998)
Vic Bellay (1998)
Armand 'Pitt' Lambert (1995)
Dennis Boiteau (1992)
Byron Harkness (1985)
Bill Bracegirdle (1979)
Ed Tellier (1975)
Jim Ross (1973)
Elmer Young (1973)
AWARDS
Every year The Pas Kinsmen vote on 2 awards that are then presented at their year-end golf meeting.  The Rookie of The Year is presented to a member that has shown excellent commitment and dedication to the club in their first year.  The Kinsmen of the Year is presented to any member of the club with the exception of the President, that his fellow Kinsmen believe has shown incredible dedication to the club in the past year.
The club has also been awarded some prestigious awards by Kin Canada that can be found here
National Awards
Year
2021/2022
2020/2021
2019/2020
2018/19
2017/18
2016/17
2015/16
2014/15
2013/14
2012/13
2011/12
2010/11
2009/10
2008/09
2007/08
2006/07
2005/06
2004/05
2003/04
2002/03
2001/02
2000/01
1999/2000
1998/99
1997/98
1996/97
1995/96
1994/95
1993/94
1992/93
1991/92
1990/91
1989/90
1988/89
1987/88
1986/87
1985/86
1984/85
1983/84
1982/83
1981/82
1980/81
1979/80
1978/79
1977/78
1976/77
1975/76
1974/75
1973/74
1972/73
1971/72
1970/71
1969/70
1968/69
1967/68
1966/67
1965/66
Kinsmen of The Year
–
–
Evan Hrabowich
Adam Noel
Domenic Granata
Mike Roberts
Drew Tritthart
Dave Roberts
Dave Roberts
Shane Masters
Riley Wlasichuk
Dave Roberts
Jack Madrigga
Bruce Trampe
Byron Pease
Ken Tritthart
Bruce Trampe
Ken Tritthart
Jim McCormack
Dave Waslynka
Bruce Trampe
Rob Kozak
Dennis Shepherd
Bruce Trampe
Chris Jelfs
Steve Iles
Dennis Hlady
Erin Wallace
Erin Wallace
Dennis Hlady
Vic Bellay
Kevin Bernstrom
Doc MacGillivary
Joe Bukoski
Joe Bukoski
Gary Kozun
Gary Kozun
Gary Kozun
Gary Kozun
Jim Lamontagne
Terry Buck
Terry Lumb
Charles Pieper
Bryan Harkness
Richard Colgan
Norman Baxter
Terry Lumb
Monte Cousins
Ian Gunn
Ian Gunn
Don Black
Bill Bracegirdle
Ray Guidry
Bob Schoch
Barry Donnelly
Gerry Hanover
Rookie of the Year
–
–
Trent Allen
Andrew Esson
Josh Lamontangue
Drew Tritthart
Dominic Granata
Danny Halpin
Travis Landels
Rick Kerwin
.
.
Mark Landels
.
.
.
.
Ken Tritthart
.
Brent Colgan
Adam Noel
.
.
.
Bruce Trampe